Trail running is a blast. It doesn't get much better than bombing along a ridge with amazing views to either side of you and a big grin plastered on your face. But for city-dwellers, getting to that point can seem like an intimidating challenge. It doesn't need to be. Here's a simple guide to preparing for adventures whilst living in the big smoke.
The Principle of Specificity: "When one trains one's body to do a particular task, the body gets better at that task, but it doesn't necessarily get better at other unrelated tasks. The improvement is therefore said to be specific to the training task."
The principle of specificity means that if you want to get better at running on trails, then you need to run on trails. So how do you train for trail running if you live in the city? Here are four ideas that will help you on your way to becoming the next Kilian Jornet (okay, maybe not, but they should help you out nonetheless).
The good news is that if you feel like you don't have the time to do any of the below, then that's fine! If you smash your Parkrun PB, you'll likely also be getting faster over the trails. Running is running, after all. Specific training is about putting the icing on the cake, but you can have a great cake without icing (lemon drizzle, anyone?)
Get Strong
The single biggest difference between trail and road running is the variety of movement. When running on a trail your running stride has to be much more dynamic as you respond to tree roots, changes in surface, and steep climbs and descents. This variety requires your body to be a bit stronger and more adaptable if you're going to maintain your running economy (your ability to turn hard work into speed) over the course of a run. This is particularly true if you're training for an ultra race like a 50km.
But if you've spent all of your running life gliding over the pavement, then that extra strength is unlikely to be there when you need it. Most runners could benefit from doing some more strength training - but trail runners who live in the city can really benefit.
Strength training might sound complicated, but it doesn't have to be. Yes, if you want to do sophisticated free weight and kettlebell workouts, they are great. But strength training can also be as simple as spending three minutes doing lunges and step ups.
The most running-specific strength work of all is running uphill. Running uphill intervals gets you ready for the kind of climbing you will encounter on the trails. But even better, it allows you to do more intense running without the kind of biomechanical stress associated with running fast intervals on the flat. In short, you can do hard hill repeats with less risk of injury than if you ran at a similar effort around a running track. Anything from twenty second hill strides to sets of eight minute sustained intervals will help you build trail-ready legs.
Park trails
Strength work can help you run faster over the rough stuff, but to make the improvements in the skills and physical adaptations required to really fly through the hills, you're going to need to get some dedicated minutes in the mud.
Most training runs in and around London can include some trail miles if you know where to look. Smart route planning - using a tool like Komoot or Strava Premium - can help you include time on the trails even when you don't have time to get out of the city. There are parks, commons, Heaths, canals and woods and forests all over the city are waiting to be explored.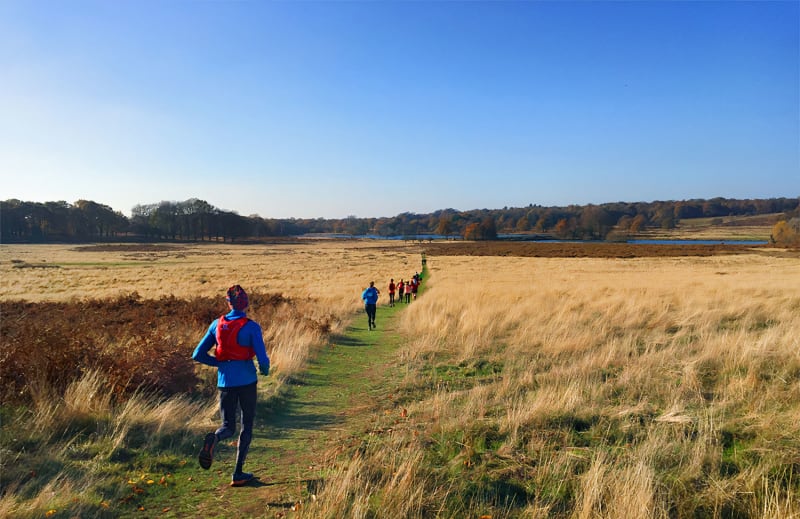 If you live in London, there are options whatever part of the city you're in:
In South East, Beckenham Place park, Crystal Palace, Dulwich Park, Peckham Rye, South Norwood Country Park and Sydenham Hill Wood can all give you a chance to escape from the tarmac.
In South West, Richmond and Bushy parks offer miles of trails.
In East, Epping Forest, Walthamstow Forest, and the Lee Valley all have great options for off-road running.
In North, you can choose between canal towpaths, Hampstead Heath, Alexandra Park and Highgate Wood.
Use our Route Explorer to plan big weekend runs
Sometimes you just need to make the time and space required to get in a long run on the exact kind of terrain you're going to race on.
But if you just plan a route in an area you've never been to before, you can end up spending your time bushwhacking through overgrown footpaths or stomping through deep mud. The nice-looking lines you saw on your map often don't really exist in reality.
So, if you want to make the most of your time, consider looking for trails that you can be certain will be a bit more runnable. The national trails, like The Ridgeway or North Downs Way, are all maintained to a high enough standard that means they are mostly runnable year round. Bridleways also tend to be more reliable than footpaths, especially in winter.
But if you want a selection of routes with easy public transport links from London where someone else has done all the recon for you, take a look at our route-finding platform, Explore.
Explore brings together routes that Runaway guides have run over and over again. From short sharp 10Ks to marathon-length long runs starting from the centre of town and 50K ultra trail routes, Explore gives you decades of route-finding experience at the touch of a button. Every route includes a GPS track that you can follow along on your phone or watch.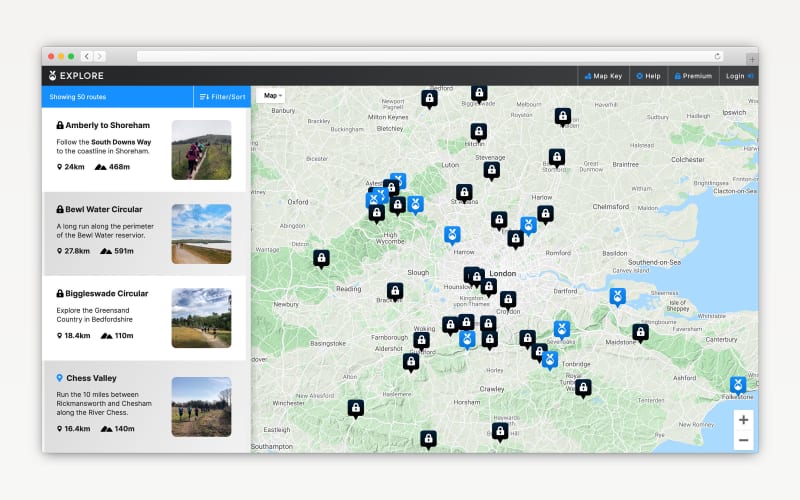 Join the community
Part of the joy of running is sharing the experience of exploration with friends. If you want to run with a group and link up with the wider trail running community in and around London, then Runaway meet-up runs could be for you.
Every month we escape the city to hit the trails. Every run is easily accessible from public transport, and ends with a post-run cafe stop. Social runs are a great way to pick the brains of experienced trail runners and guides and get your specific questions answered: from how to open a gel whilst dodging nettles, to what you need to pack for a longer solo adventure.
Sound good? Click here to join the community.