We tend to define ultramarathons as any race over 26.2 miles. The most common introduction to the world of ultra is the 50k distance, which helps runners take that first step beyond a marathon.
Runaway Racing organises four annual 50k's over beautiful terrain, and every year we're proud to help hundreds of runners complete their first ultra.
But when you think of the all-time classic races - from the Western States Endurance Run and Hardrock to the Ultra Trail de Mont Blanc - they tend to cluster around the 100 mile distance. There's something about that big round number that attracts everyone from the back of the pack to the super elite.
So, if you've just completed your first 50k and want to set a target to work towards over the next few years, or if you're an experienced athlete looking for the next challenge - here are five of the best 100 mile races in the UK.
---
1. Altra West Highland Way Race
Next event: 18th June 2022
Distance: ~95 miles
Elevation gain: ~14,760ft (4471m)
Website: westhighlandwayrace.org
The WHW race is actually slightly short of the full 100, but it fully deserves its place on the list because of its unique combination of an iconic trail and a long history.
It's the oldest race on this list, starting way back in 1985. It attracted a stellar line up from the start, with fell running hero Bobby Sheilds lining up as one of two competitors in its first year. The legendary Mike Hartley lined up at the race in 1989, finishing only six minutes behind the leader David Wallace. A month later Mike went on to run the historic Pennine Way FKT, a record so strong that it lasted until 2020 when it was eventually beaten by John Kelly.
If you want a sense of what ultramarathon running looked like seventeen years ago, check out this fantastic documentary on the 2005 race.
---
2. The RaidLight Arc of Attrition
Next event: 27th January 2023
Distance: 100 miles
Elevation gain: 13,156ft (4010m)
Website: mudcrew.co.uk/event/the-arc-of-attrition
100 miles is a difficult proposition at any time of year - but particularly in January along the coast path. Ran around Lands End in deepest Cornwall, the Arc is characterised by adverse weather, long hours of darkness, and technical terrain that spikes up and down relentlessly through an almost endless series of stop start climbs.
The enthusiasm of its organisers, Mudcrew events, is infectious. Footage of start lines covered in blue smoke and surrounded by fans does a lot to attract a fast field to an event which is quickly developing a dedicated pool of runners and supporters.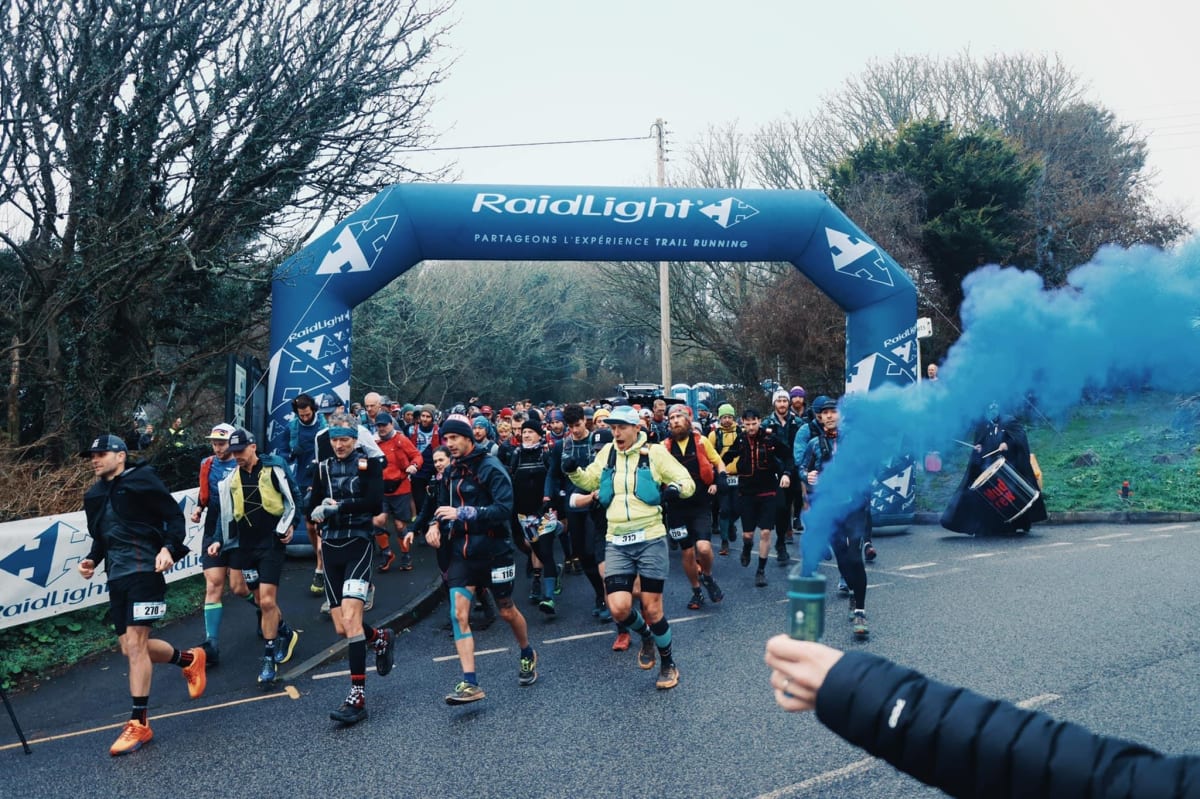 Credit: David Miller Photography
---
3. South Downs Way 100
Next event: 11th June 2022
Distance: 100 miles
Elevation gain: 12,700ft (3800m)
Website: centurionrunning.com/races/south-downs-way-100-2022
The SDW100 is the South of England's premier race. Its character is remarkably similar to the classic American Western States race - with fast, runnable trails, high temperatures, and even a finish round a lap of an athletics track. The chalk ridges that run from Winchester to Eastbourne have played host to some seriously fast times over the years, with the men's course record being held by Mark Perkins in 14:03.
With 433 starters in 2021, it's the biggest event that respected organisers Centurion Running put on, and it looks well placed to benefit from a bigger audience as the popularity of the sport grows.
The next big moment for the race could come with a new men's record. Tom Evans set the course record for the 50 mile version of the race in 2018 with a sizzling 5:44. Now he's returned from a knee injury, if one of the UK's fastest could be tempted back to the Downs that record could be lowered again. Even if not, the race will continue to serve up spectacular racing on beautiful trails for years to come.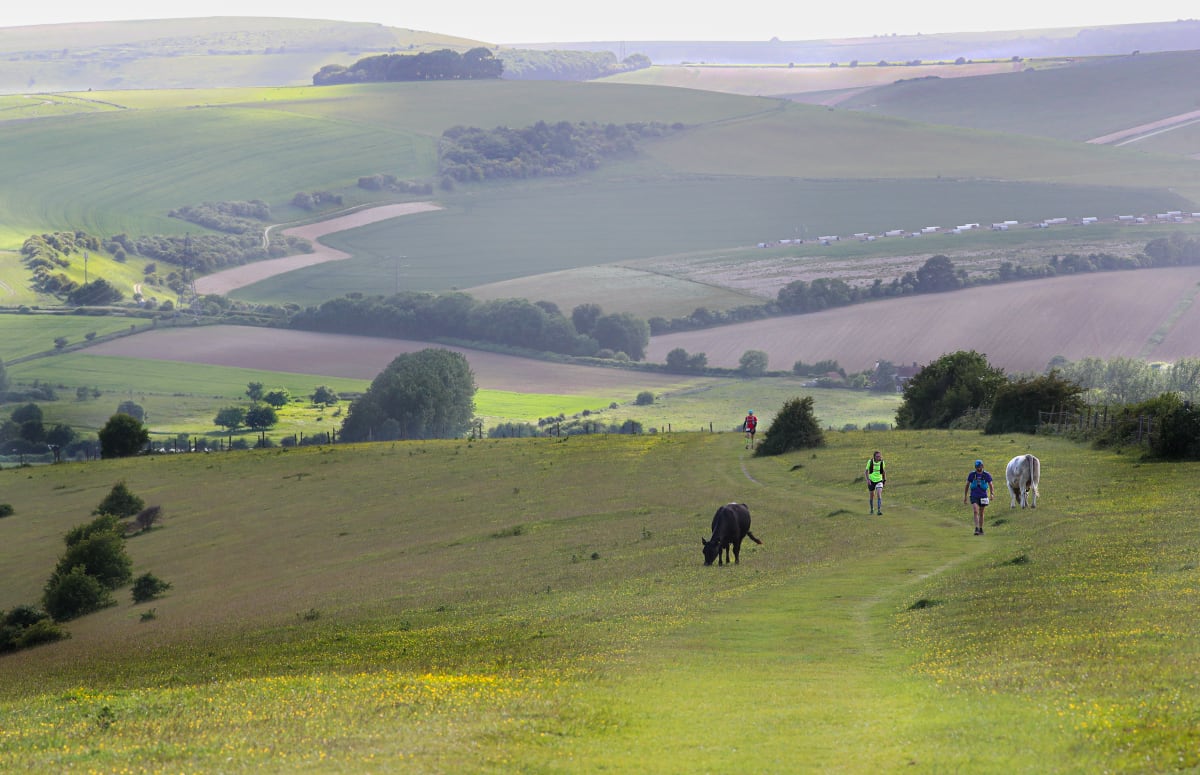 Credit: Centurion Running
---
4. Ultra-Trail Snowdonia by UTMB®
Next event: 1st July 2022
Distance: 103 miles
Elevation gain: 33,500ft (10,200m)
Website: apexrunning.co/events/ultratrailsnowdonia
Part of the UTMB race family and modelled on its big Alpine brother, the UTS aspires to be the closest thing you can get to the Chamonix race experience without crossing the channel. It's similar to UTMB in that it packs in a huge amount of elevation gain and loss as part of a challenging mountain course - but unique in that it does so over much more technical terrain. This race is a real monster challenge. The 2021 men's winner Josh Bakker-Dyos came home in a whopping 29 hours, and women's winner Alice Sheldon took over 45 hours. This is a race that cannot be underestimated.
The 2022 race will no doubt showcase the best talent within British mountain running right now. Already on the men's start list is Welsh runner Simon Roberts, winner of the 2021 Dragons Back Race, along with Mark Darybshire, stepping up to the 100 mile race after taking the 100k win at UTS in 2021. With plenty more to join, it will be a fascinating event to follow.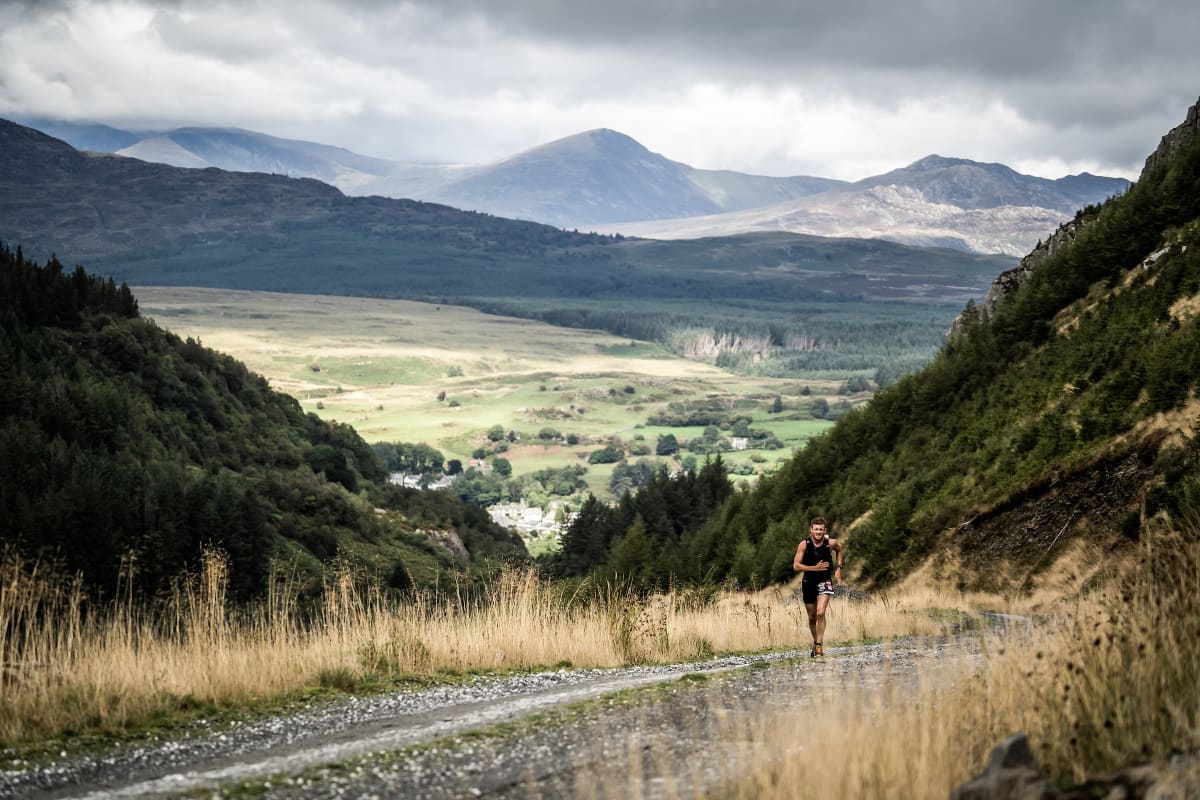 Credit: Ian Corless
---
5. Montane Lakeland 100
Next event: 29th July 2022
Distance: 105 miles
Elevation gain: 22,493ft (6856m)
Website: lakeland100.com
This list wouldn't be complete without a visit to the classic English fells. Ultra running in the lakes is often synonymous with the classic Bob Graham round, but the Lakeland 100 covers the similar ground in a race format that starts and finishes in Coniston. The Lakeland 100 played host to a classic race in 2018, when long distance fell racing phenom Sabrina Verjee ran brilliantly to come within ten minutes of beating the entirety of both the mens' and women's fields for an overall victory.
---
This article was written by Callum Cant - @CallumCant1