The Eden Valley 50km, set in the most picturesque countryside one could imagine, was the final of our three 50km races for 2021.
Held from Wilderness Farm, its secluded event base, surrounded by forests, gives it a magical atmosphere.
On event day, bar our coffee provider not turning up, everything was going to plan. All 131 runners arrived, registered and embarked on their 50km loop.
The course had been improved from the inaugural event, meaning the first section to CP1 was new and the race was hotting up as runners started arriving.
A leading group, Oliver Knoles, Franck Bitard, Daniel Jeffries and Eugene Cross (pictured) were running as a pack and went through in just 50 minutes.
It was a similar story for the leading women, with Elena Hesse, Agnieszka Rozanska and Victoria King arriving together in 61 minutes.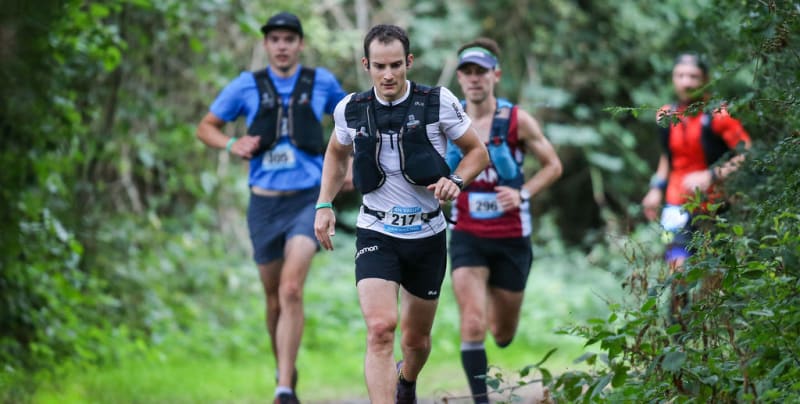 The section to CP2 is long and by far the hilliest, putting a dent in many runners hopes. This was shown in the men's race with Oliver running a hugely impressive leg to open up a seventeen minute lead. The women had largely stayed together with Elena and Agnieszka still neck and neck, Victoria holding the pace three minutes behind.
Down to CP3, on what is much kinder and faster trails reads an interesting story. Clearly, Oliver was feeling the effects of his fast hill climbing, as the lead was cut down to just two minutes, setting up a thrilling final 10km. Elena was now running on her own, having created a five minute lead.
At the finish, we waited patiently wondering who would be first around the corner, until we saw Oliver, who had battled through to secure the win in 04:13:30, just a 45-second gap to Franck. Daniel took a convincing third in 04:19:28.
Elena (below) completed a solid final leg and won the women's race with a seven minutes to spare in 05:08:48. Agnieszka followed behind in 05:14:49 a gap of 13 minutes to Victoria, third in 05:27:47.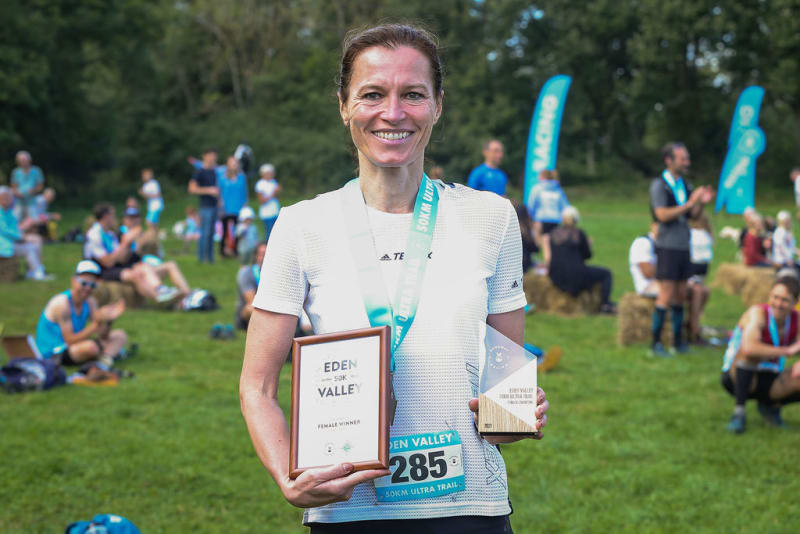 Other notable performances include:
Eugene Cross, 04:33:02 - MV40 winner
Gary Parsons, 04:59:37 - MV50 winner
Michelle Hollins, 05:58:48 - FV50 winner
Mark Clayton, 07:03:16 - MV60 winner
Jeanne Barrett, 07:11:02 - FV60 winner
In total, there were 4 DNF's and 127 finishers. Congratulations to you all.
Click here for the full results and here for photos.
---
Due to several difficulties with race organisation, the future of the Eden Valley is in doubt. We will make a decision in due course regarding the next running of this event