The 4th edition of the Chiltern Ridge Ultra Trail took place on Saturday, 7th May 2022. With a field of 160 runners, it is our largest event to date.
Harsh weather conditions dominated the last two year's races, so all eyes were on the forecasters. With all looking well and warm weather on the cards, I declared the curse of the Chiltern Ridge lifted and that a dry event was on its way - A statement I promise not to repeat.
As runners made their way to our new race HQ at Fuzzy's Farm, the rain lashed down, and the familiar image of runners huddling under various shelters returned. Fortunately, it was reasonably short-lived and just after 9am, the race was underway.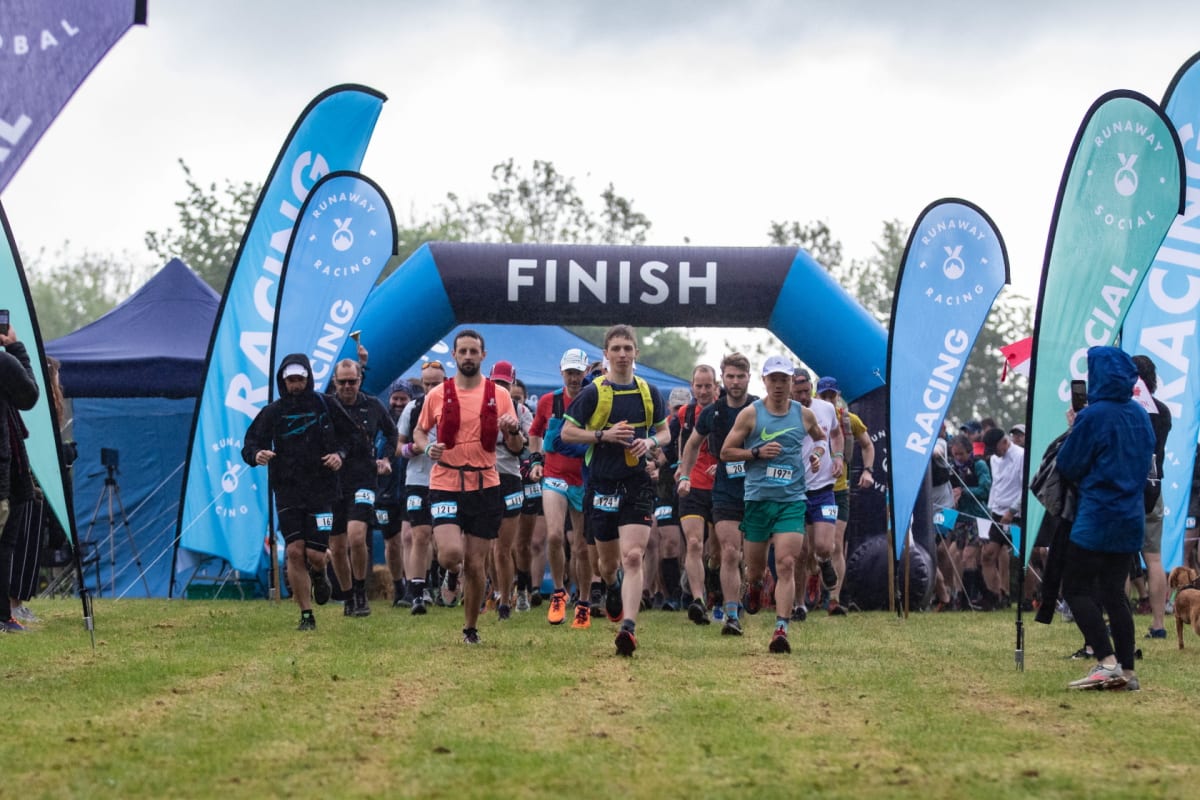 Matthew Lock (Witney Road Runners), who placed 2nd in 2021 and 3rd in 2020 was back for another attempt, and we were excited to see what he could do, both on a new course and under mass start race conditions.
The female race had an interesting story - Sarah Hendry, a previous winner at our Eden Valley 50k (and last year's Chiltern Ridge runner-up) was back for another bite of the cherry, but it would be a tough challenge with last year's champion, Teresa Reason (Gade Valley Harriers) also on the start list.
At Checkpoint 1 (15.2km), Matthew Lock had started fast and built up a ~3 minute lead on Zhilong Yang, who was another three minutes ahead of a fast group of six. The top four women were split by four minutes, with Theresa gaining a three-minute buffer to Sarah, Belinda Pullan and Kate Kelland.
As the race evolved and the elevation levels increased, the runners tackled the tough Ridgeway National Trail section between Ivinghoe Beacon and our Aldbury checkpoint (CP3, 36KM). Matthew Lock's lead had increased to 12 minutes and Sarah Hendry had a very strong middle section and was now leading by 8 minutes.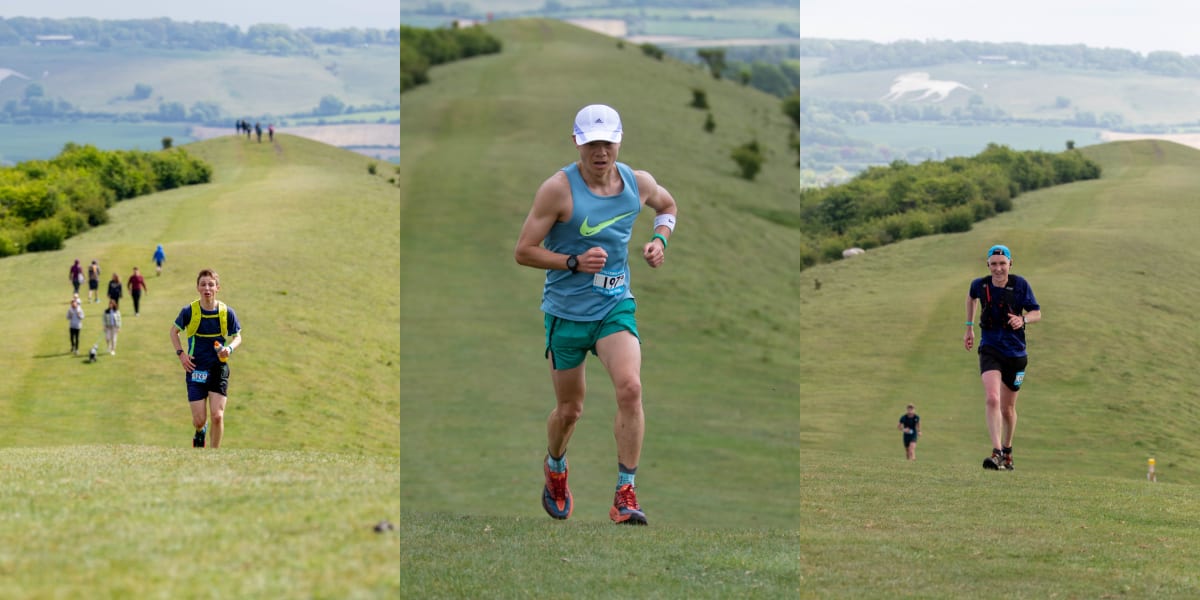 Photo: Our top three male runners going through Ivinghoe Beacon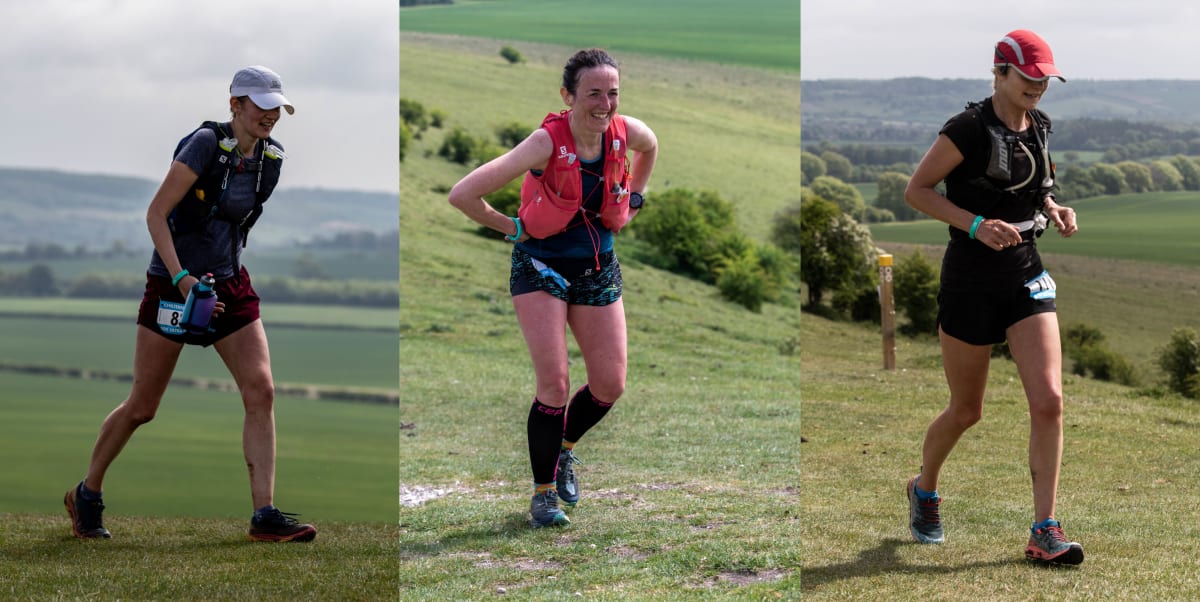 Photo: Our top three female runners going through Ivinghoe Beacon
From Aldbury, the route climbs back into the Ashridge National Trust Estate and flattens out towards Berkhamsted Common. The hills then return for a tough undulating last 4KM which no doubt had some runners muttering under their breath!
Back at the event base, we were delighted to see Matthew Lock coming through the finish line in an impressive time of 03:52:18. Zhilong held onto 2nd in 04:13:40 and Sam Pullan (St Alban's Striders) took third in 04:27:30.
Similarly, it was fantastic to see Sarah Hendry take the win in 04:47:43. Teresa held onto 2nd with another strong run in 05:03:00 and Kate Kelland completed the podium coming through in 05:08:29.
Well done to everyone that came and tackled the Chiltern Ridge!
Click here for the full results and here for photos.
---
Our age categories winner were:
Zhilong Yang, 04:13:40 - MV40 winner
Teresa Reason, 05:03:00 - FV40 winner
Sam Pullan, 04:27:30 - MV50 winner
Kate Kelland, 05:08:59 - FV50 winner
Dave Janosko, 06:51:43 - MV60 winner
Merilyn Davis, 06:23:57 - FV60 winner
Our pairs winners were:
Matthew Lock & Zuzana Nemeckova - Mixed Pair, 09:12:49
Paul Stack & Saul Caroto - Male Pair, 09:54:45
Sally Taylor & Fiona Wise - Female Pair, 11:17:13
Click here to view the full pairs leaderboard
---
A huge thank you to my team who ensured everything went smoothly and did a great job looking after the runners. They were - Tim, Jahn, Lisa, Chris P, Ella, Tony, Dave, Glenn, Roger, Owen, Mark, Jess, Graham and Matt.
We couldn't have done this without the support of many organisations and landonwers in the area, thank you to: Bucks Search & Rescue, National Trust, Ridgeway National Trail, Dacorum Borough Council, Gaddesden Estate, Boxted Farm, Beechwood Park School, Beechwood Park Farm, Dunstable Downs, Whipsnade Village Hall, Dagnall Village Hall, Whipsnade Park Golf Club, Berhamstead Golf Club, Aldbury Sports Ground and all the local residents who put up with our orange ribbons for 48 hours!
---
The Chiltern Ridge will return for its 5th edition on Sunday, 7th May 2023. Entries are now open