This event had previously been organised in conjunction with the 50km of the same name, however, we felt like it deserved its own special day.
With this change, we were keen to move the route to an iconic section of The Ridgeway National Trail, between Coombe Hill and Whiteleaf. Thanks to the fantastic support from the National Trust, Chiltern Society and The Ridgeway this was made possible and we couldn't be happier with the route on offer.
It's a challenging course, runners have 542m of elevation gain to navigate, but it's the regularity of the hills that are the issue, there are four big climbs but between them the undulation is constant. We were fascinated to see what times we would be achieved on race day.
89 runners were attempting the challenge, all setting off from the bottom of Coombe Hill, meaning the first mile was entirely uphill.
The conditions were perfect, no wind, dry and with much the route shaded by trees, the heat wasn't going to be an issue. For once we couldn't have asked for more from the weather gods.
As expected, the finish times reflected the challenging route, with only the top 15 coming in under the 2-hour mark.
Our overall winner was James Shiner (pictured), representing St Neots Riverside Runners in a time of 01:36:20. James had won entry via a competition through the Chiltern Society!
Close behind in 2nd place was Thomas Beasley (1:37:12), followed by Dyf Coles in 01:38:32.
The top women were only separated by 50 seconds, with Nicole Millar taking the win in 01:55:20, ahead of Caroline Frith in 01:56:30. Completing the podium was Jennifer Bizley in 02:04:05.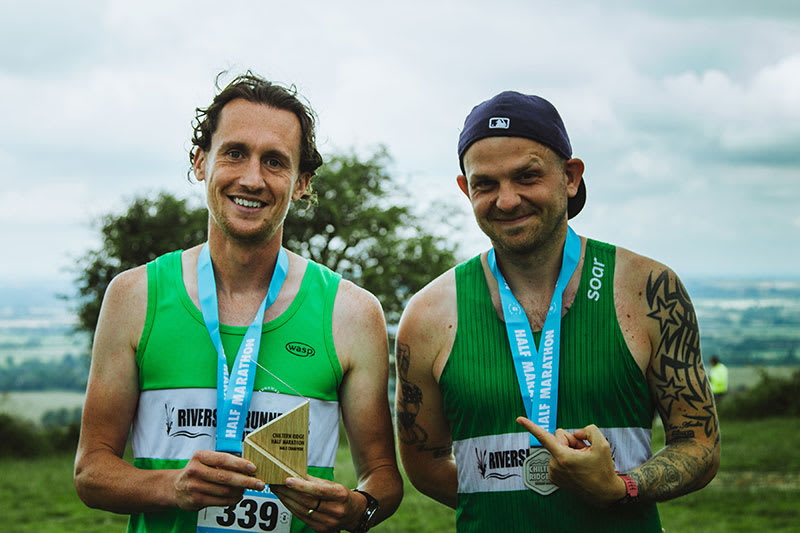 Other notable performances include:
Kate Kelland, 02:08:09 - FV50 winner
Stewart Campbell, 01:55:23 - MV50 winner
Paul Taylor, 02:25:18 - MV60 winner
Jane Elam, 03:13:09 - FV60 winner
All 89 runners completed the distance, thank you for coming and well done on your achievement. Click here for the full results and here for photos.
---
Join us for the next Chiltern Ridge Half Marathon, click here for more information.